When I carried the baby down to the kitchen at 6:00 this morning, I found an old friend sitting at my kitchen table. I think Brent let her in last night. I have not seen
Gillian
in a long time!
But the baby was hungry and I didn't have time to visit right away, so I waited until he went down for a nap. I made a pot of coffee and took my friend out on the porch to see what she brought with her.
The morning was so still except for the sound of light rain falling on the porch roof and the wind blowing the leaves on the trees. Dawn was coming and all was quiet. Sipping my coffee, I opened the gift from my friend.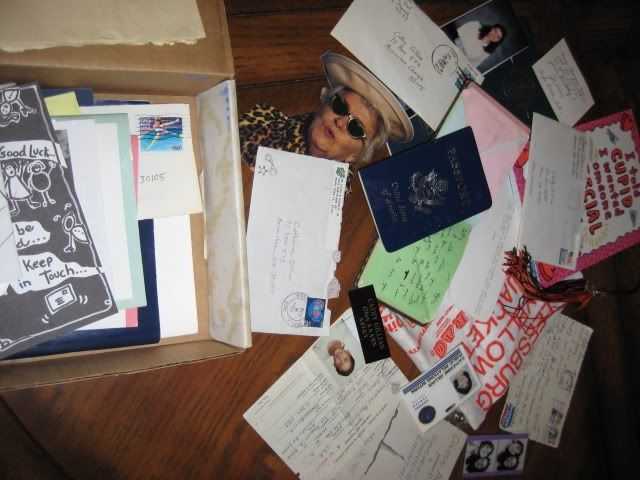 I hadn't seen this box of mementos in years and it was filled with scraps, photos, cards, and letters. A record of time spanning from when I was in 5th grade when my family moved to South America to college graduation at Georgia State. Letters from old friends, admirers and even letters of courtship from my then boyfriend, now husband.
What a treat to pull out each thing and remember old times. Time…it doesn't seem all that long ago. I unearthed several nicknames: Killer from the way I swung a bat when playing softball in the 7th grade and Lightening from when I worked on the college painting crew at Berry College. Even now friends have deemed me D.D.C.P. (Down and Dirty Cathy Purdy)…all names that are very much opposites of my personality….or it is not? Maybe all my friends know me better than I let on!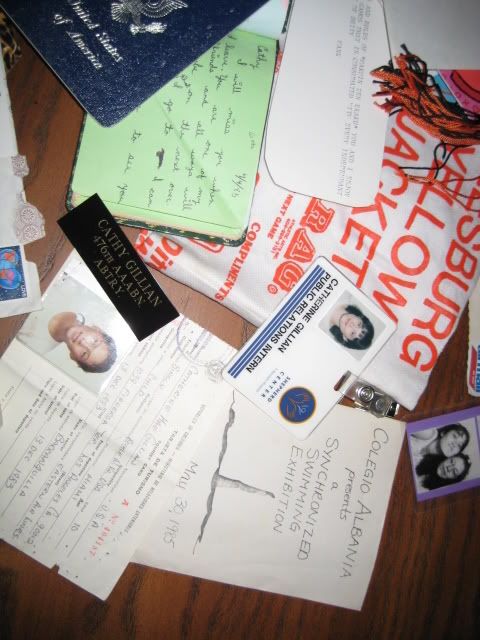 Gosh what else was I into…synchronized swimming, Friday night high school football games, internship at Fernbank Museum and Shepherd Spinal Center. I also found a postcard when I was about 10 years old that I wrote to my daddy when my mom and sister went out to California to visit my uncles. Lots of
good-bye
cards and messages too, a reminder just how much my family moved from place to place.
So amazing that so many years have passed already. Maybe one day when Hudson is old enough, I'll have "Gillian" pay him a visit just so he can know more about his mommy when she was younger.