I just wanted to
thank everyone
that has been by my blog to visit and comment. This is encouragement to keep sharing these craft ideas with you all. And if you have something new you want to share with me, just let me know. I love visiting other creative blogs too.
I'm getting ready to head out of town for a few days and wanted to post another fun Halloween project! Here's a
Garland
for a fireplace, over an entryway or as trim around a party table.
This
polka dot
, orange, flannel-like fabric that reminds me of candy corn. I brushed
Stiffy
fabric stiffener on the backside of the fabric and let it dry.
Stiffy
is like liquid starch and is easy to clean up with water. Then, with an iron on low setting I removed all the wrinkles and let it cool before cutting out my triangles.
Visit
dafont

.com
for cool computer fonts that are free to download. This one is called
"

Fiddums

Family".
I printed out "Spell Bound" onto iron-on transfer paper, cut out each letter and ironed it on the fabric triangles. I found that if I let the transfer cool before I removed it gave the best results.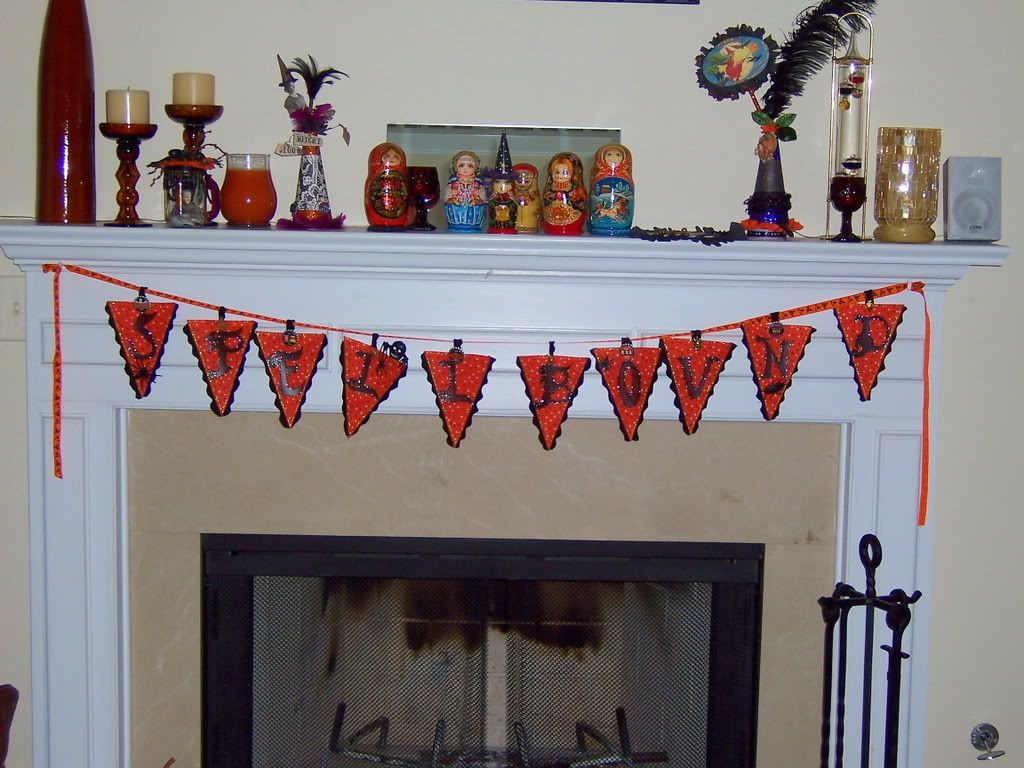 Then using glitter dimensional fabric paint, I traced each letter and the outside edge of the
triangles
to add some sparkle. Embellish with scallops cut from black felt, charms,
bottle caps
and creepy crawlers for a final touch. I just love how this dresses up my fireplace.