My little Prince is turning ONE!!!
The big event is 3 weekends away, so the invitations HAD to go in the mail yesterday. To keep it simple (so I have time to obsess over other birthday preparations) I took some help from some $1 product at Michaels. A pack of 8

note cards

with some type of design already printed on it, throw on a couple personal touches and

POOF!

You have a handmade invitation!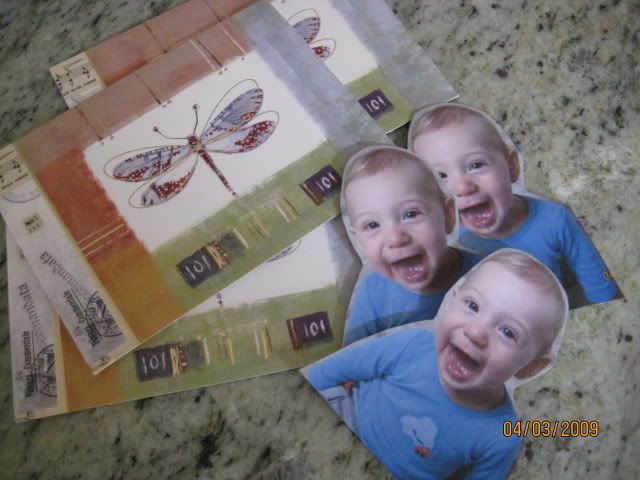 Actually the hardest part of the project is getting your little one to give you a great photo. I spent 3 afternoons taking pictures until finally he was in the funniest mood and I captured this look!
I printed the invitation details directly on the inside of the card using

Microsoft Word

. This took some playing to get it right. Be sure to do some test printing with scrap paper cut to the size of the open note card before putting the real thing into the printer.
After the insides are complete you are ready for the front.
Select the digital photo you want to use and print it on

Avery's "Full Sheet" labels.

Cut out the background leaving your "Cutie Pie" behind. Peel off the backing and stick on the note card. I added a gold

crown charm

with a foam Pop Dot for extra dimension. I couldn't find crown charms in stores, so I ordered them online from www.skybluepink.com. She was quick! 3 large charms for $1 plus shipping, but any difference in shipping she added a few extra charms.
...(sigh)...so cute...