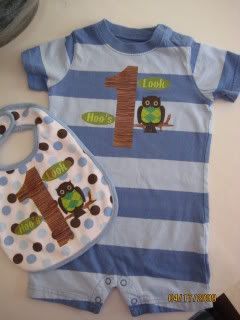 Sometimes to get exactly what you want you have to make it yourself. That's what I did when I went on the search for a birthday outfit for Hudson's 1 year party. This Little Owl Ensemble was simple to do.

The hardest part was finding a plain or simply printed outfit to transfer the image on. I found this romper at Carter's and detached the little applique that was sewn on the front.
I designed the "Look Hoo's 1" pattern on the computer and printed it on the iron-on transfer sheets. The Owl Applique is from the $1 bins at Michael's, but it will probably be gone by the time you make it there. So you may need to look in the fabric department for some other applique options or find some owl clip art on the computer.

Tips: Buy your outfit first and then look for the transfer paper, follow the manufacturer's instructions for the paper, and do a test sample first.
Transfer Paper:

There are all types of papers on the market. I think the packaging is very unclear as to which type of paper you will need to use. I would pick your outfit first and know if your surface is white or colored. Then go to the store and start looking for the right paper.
If your surface is white, there is paper that will actually transfer the ink directly onto the fabric.
If your surface is colored, then there is a sheet of thin film that you print directly on, cut out and then actually iron the film to the fabric. That is the method I used since my romper was blue. The white transfer film make the ink jet colors brighter.
Have fun and no fear! I'll post more pictures of my little model in a couple of weeks.