Well, I survived the party for my one-year-old. This weekend I'm finally catching up on all the chores I had neglected leading up to the party but it was well worth it. The party was great, the cake turned out cute and the guest of honor was in the perfect mood.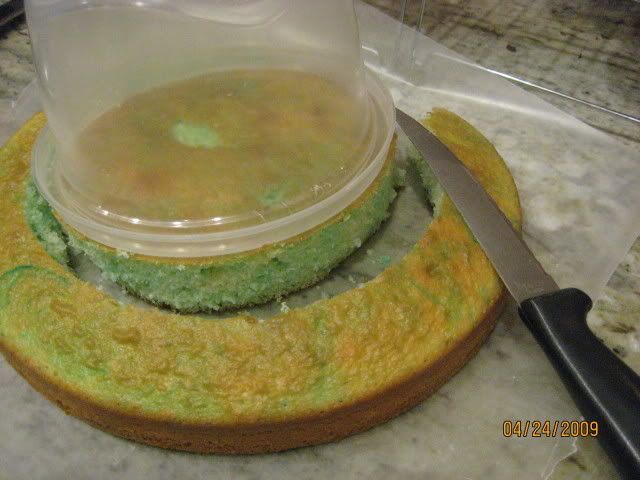 I wanted a
small double-layer cake
for Hudson to dig into and decided to do it myself with help from Betty Crocker...why not???? I baked the layers in 2 round pans then found a container to then cut the cake even smaller.
Don't throw away the trimmings!
Wrap it up and toss in the freezer....an idea on what to do with these is below.
I tinted the icing blue (and yes, I marblized the cake batter with some blue coloring). One layer of frosting was put on and then put the cake went into the fridge to firm up. The problem I had was since I had cut off the sides, the cake would break apart when I tried to spread the icing. So do this step carefully. A second layer of frosting was spread, add some simple piping and top off with the 1 candle. Just what I wanted, a homemade-looking creation. Perfect for picture time.
Trifle Ingredients:
Cake trimmings, chunk into 1" pieces
1 boxes instant vanilla pudding mix, use milk ratio for a pie
Cool Whip
Blueberries or Strawberries
Crushed Pineapple, 1/2 can
Layer cake, pineapple, pudding, berries, Cool Whip and more berries. Refrigerate before serving. Enjoy a nice dessert with your hubby and 1 year old....and some other guests!