My little guy turned 3 last year and I'm just now posting some ideas for a Fireman in training.
I made it a little easier on myself by ordering the cupcakes at Publix and then making my own cupcake picks. I even bought a large punch to do the scallop circles and glued them to lollipop sticks.
I must proudly show you this

fire truck made out of cardboard boxes

! I just taped and hot glued in a few areas, cut out the holes and rolled on the red paint. I actually overlapped some of the flaps inside the boxes to add some extra durability and it really held up very well.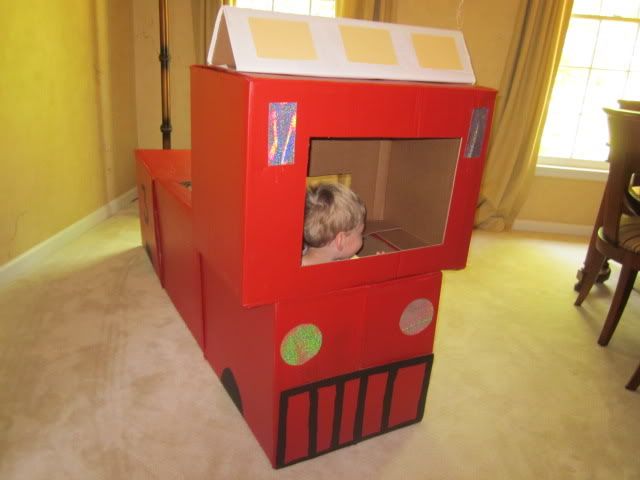 I used a satin finish paint just so it didn't have that chalky feel. The lights on top are simply...

a UPS tube!

I just cut it down and wrapped in paper. The kids could enter from the back and crawl to the cab. It was a lot of fun and, of course, it was destroyed post-party. Oh well. (Sorry for no in-process photos. I was in the basement and just got so caught up and excited that it was going so well that I kept working until the end.)
Then we can't forget the invitation...
No, this isn't Pull the Tail on the Doggie, but rather a pinata from Party City with the pull string releases for little ones. They all took a turn with their little fire hats on. The hats all came from DollarTree.
Now for you to be inspired and have a
Fire Fighting Good Time
.